WHAT ARE THE SANDWICH PANELS?
Sandwich panels, sometimes also known as slab boards, are structural elements that consist of lining and structural-insulating core. The linings are usually made of thin profiled steel sheets coated with protective and decorative coatings, and sometimes also with other metal claddng e.g. aluminum or stainless steel. Sandwich core cores can be made of polyurethane foam (PUR) or (PIR), mineral wool or expanded polystyrene, which is commonly known as styrofoam. These insulating materials, thanks to their low heat transfer coefficient, provide high thermal resistance to the construction made of sandwich panels. In addition, they are characterized by low self weight while maintaining high energy efficiency parameters.
WE OFFER DIFFRENT TYPES OF SANDWICH PANELS
The layer panels we offer are made of coated sheet steel. The sheets first pass a hot dip galvanizing phase, then double-sided coating, followed by surface coating with different chemical compositions. The basic coatings used for the production of sandwich panels are polyester, polyurethane paints. At the very end the surface of the plate is protected with a protective foil. The core is made of one of three basic types of material: polystyrene, polyurethane foam or mineral wool.
Similar to the variety of materials that can be made from the core, we offer three types of sandwich panels:
Styrofoam plates
PUR / PIR polyurethane plates
Mineral wool boards
Mineral wool, Styrofoam and Polyurethane foam cores have the same role. Styrofoam is considered a cheap material and for example mineral wool is well-known for its high fire resistance.
All three materials are available according to their intended use, both in the case of layered roofing panels and wall sandwich panels. The combination of wall and roof panels is a properly shaped and profiled lock that allows for easy connection of panels, ensuring a tight connection. We offer the additional solution of using a soft polyurethane foam insert that fills the gap on a combination of two boards by eliminating the frosting point and eliminating the need for assembly foam.<br>The coloring of the sheet used for the production of sandwich panels is determined with you according to your needs. The standard color of the disc is white. In our basic offer there are 13 basic colors of the RAL palette, but you can choose from the other colors of the RAL palette after additional individual arrangements.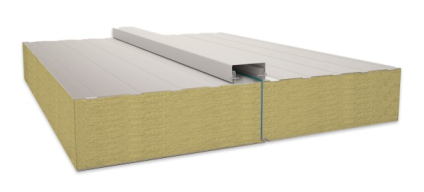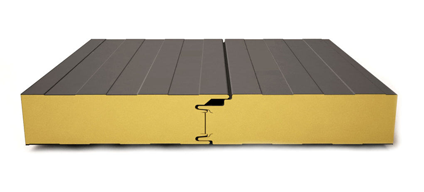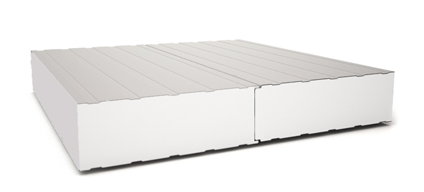 POLYURETHANE PUR AND PIR PANELS
Polyurethane plates include two types of sandwich panels with a core belonging to the polyurethane family. The first type of core is PUR (polyurethane) foam, while the second is PIR (polyisocyanurate) foam. The chemical composition of both materials is very similar and both have high thermal insulation. The basic difference is the fire properties – the PIR foam is much better. In the case of PUR foam, chemical chain breakdown due to fire and high temperature occurs at 200 ° C, while for PIR foam it is as much as 300 ° C and additionally produces a charred coating that extends fire access time to deeper layers. Considering safety, this is of great importance, especially in the case of laminated roofing panels (in case of fire, the roof will not fall too quickly). Polyurethane boards, compared to Styrofoam core boards, are characterized by greater stiffness and better thermal insulation.
PUR / PIR polyurethane plates
Wall plate width (roof):
1020/1180 mm (1020)
Coverage width:
1000/1140 mm (1000)
Maximum length of plate:
16,5 m
Polyurethane mortars are manufactured in a continuous process. They are mainly used in building construction and construction of production halls for which EI15 or EI30 fire resistance is required for PUR panels.
STYROPHIAN PANELS
Styrofoam sandwich panels are a very cost effective solution for roofs, walls, facades, partition walls and partitions. Styrofoam core is made of ready-made polystyrene boards up to several meters long, which are then glued to the cladding. Slab boards with polystyrene core provide excellent thermal insulation. Such a construction element is very well used in both industrial and residential construction. Styrofoam sandwich panels can be used for small objects as external and internal construction walls, curtain walls attached to the load bearing structure, roof coverings or insulation of external walls. They are used wherever lightweight lining is required.
Styrofoam sandwich panels
Plate width:
1220 mm
Width:
1200 mm
Maximum length of the board:
16 m
Styrofoam core boards due to their properties (good thermal insulation and strength at low weight) are very easy to use in the construction of buildings and at the same time economical.
PANELS OF MINERAL WOOL
Sandwich panels with mineral wool core are high quality materials used where good thermal insulation, high sound insulation and, above all, high fire safety are important. The core of mineral wool is completely non-flammable (rock wool), so that the core boards with this core can be used for the construction of objects with higher fire requirements and even as fire barriers. Mineral wool panels have a fire resistance of EI up to 120 min. Increased acoustic insulation causes the mineral wool slabs to absorb sound well, which is very important, for example in the construction of industrial halls and warehouses. Moreover, hard mineral wool is harmless to the environment.
Mineral wool sandwich panels
Plate width:
1220 mm
Width:
1200 mm
Maximum board length:
12 m
Mineral wool sandwich panels are most often used as lining of walls of halls, warehouses, farm buildings, large-area stores or garages and various types of containers. In our offer you will find sandwich panels with mineral wool core both wall and roof.
APPLICATION OF SANDWICH PANELS
Sandwich panels are now increasingly used in various industries. First of all, sandwich panels are used in construction as elements of walls and roof coverings in buildings such as industrial halls, production halls, warehouses, shopping centers (shops, supermarkets, hypermarkets), agricultural objects (cowsheds, pigsties). Sports halls, catering pavilions, refrigeration facilities, temporary building facilities, car showrooms, car wash. They can also be used in food storage facilities, refrigerators and freezers. These are just examples of using sandwich panels. They are most commonly used as roofing materials, curtain and interior walls, exterior walls, partition walls and ceilings in refrigeration chambers and as insulation elements for buildings.
ADVANTAGES OF SANDWICH PANELS
Sandwich panels are most often used as wall and roof enclosures, and their properties give buildings adequate thermal insulation and microclimate comfort, protect them from noise and vibration, and have a positive effect on hygienic conditions. At the same time, they do not require multi-stage assembly, which allows for a great time savings when they are installed. Sandwich panels are ideal as cladding material for low cost construction. The use of sandwich panels makes it easy to dismantle them together with the structure and change the location of the whole object without losing the insulation parameters. In addition, sandwich panels have an attractive surface and the ability to choose their color.