STICK LIGHTS – LIGHT STRIPES
Roofs, skylights, also known as "roof windows" are ideal for optimally illuminating indoor spaces such as industrial halls, warehouses, and sheds, with relatively light weight.
The main advantage of the roof light strips is to provide the required natural lighting in rooms intended for human occupancy and to reduce the cost of electricity consumption.
We produce skylights according to the individual needs of customers, can have any size and location.
TYPES OF SKYLIGHT
Types of skylights due to location:
ridge skylights
flat roof skylight
Types of skylight due to shape:
light arcs
lighted gable bands
Hip-skylights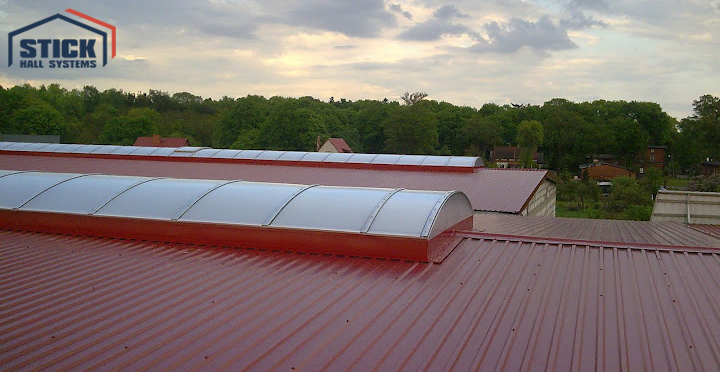 CONSTRUCTION OF SKYLIGHT
Skylights are usually mounted along the ridge. The design of the skylight is made of the highest quality aluminum – raw aluminum, unbleached, corrosion resistant and filled with multi-chamber polycarbonate plate. With larger span of skylights we use Brackets to ensure maximum stiffness and durability of skylights STICK.
The design is based on galvanized sheet steel and insulated with thermal insulation materials (mineral wool, polyurethane foam or polystyrene) and weatherproofed with PVC or thermofile. The whole is finished with roof flashing.
This combination of materials provides the right rigidity, durability and heat permeability of the STICK light bands.