Wall sandwich panels are primarily used in lightweight building systems. They are mainly used as curtain walls, but also as partitions or load-bearing walls in small refrigerated transport and economic objects. Wall sandwich panels are used as wall cladding for halls, warehouses, commercial buildings, farm buildings, garages, refrigerators, pavilions, containers, sheds, hens, etc. Wall panels can be mounted vertically or horizontally.
TYPES OF WALL PANELS
The wall sandwich panels offered by us are made of an outer and inner lining, which is a galvanized, double-sided varnished sheet and a fill called a core. They are characterized by high durability and mechanical strength. They provide protection against atmospheric agents, high thermal and acoustic insulation, and a given degree of fire resistance when applied from individual materials. You can choose from PUR or PIR polyurethane foam core boards with high rigidity and very good thermal insulation. PUR sandwich panels are also used as durable insulating material for three-layer walls. PUR panels in fiberglass linings can be used as insulation of double-walled walls and for wall insulation of existing buildings with light-wet method. In the case of PIR foam, which like PUR foam, belongs to the polyurethane family, we are dealing with better fire properties. However, mineral wool is characterized by the highest fire resistance and thus the sandwich panels with mineral wool core. Styrofoam filling plates are also convenient, but above all the cheapest of all the listed solutions.
CONNECTING AND PROFILING WALL PANELS
Due to the way of joining wall sandwich panels we offer two types of panels: standard wall panels and wall panels with concealed fittings.
Standard wallboard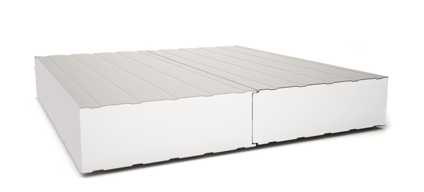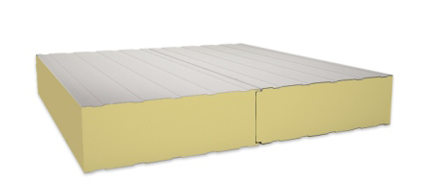 Wallboard with hidden connector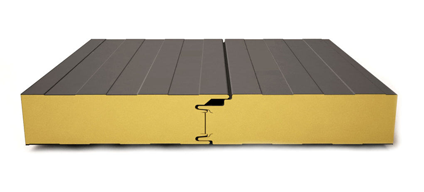 For sandwich wall panels, it is possible to choose from a wide variety of profiling profiles, such as linear profiling, microprofiling, corrugation or grooving. Standard profiling of the foamed polystyrene core lining consists of one-sided molding and the other side is smooth. According to your wishes, wall panels may also be profiled on both sides or smooth. With polyurethane wall plates, the standard profile is a two-sided molding of the lining.
Technical specifications of wall panels
Depending on the fill layer of sandwich panels are characterized by other technical parameters such as:
Wall sandwich panel
Type of core
styrofoam
polyurethane
mineral
wool
Plate thickness [mm]
40-250
40-200
40-150
Weight [kg]
8,46-11,9
9,7-16,3
15,5-25,9
Factor U [W/m2K]
0,70-0,15
0,58-0,11
0,66-0,28
Maximum length [m]
16
16,5
12
Overall width [mm]
1220
1020
1220
System width [mm]
1200
1000
1200
Panel thickness [mm]
0,5
0,5
0,5